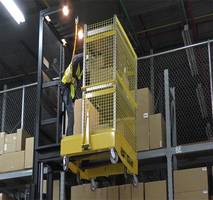 The new Pack Mule Order Picker cart is safer and easier to load than wooden pallets or cages, and it hooks up to any qualified tugger to move more product more cost effectively. Here's are some of the cart's features:
Eliminates the need for forklifts moving single pallets when moving orders to the next station. The forklifts Tow Pin can be used to move multiple carts at a time.
Enclosed cargo space protects the cargo, the operator, and anyone working below.
Provides 200% more cargo space than a wooden pallet.
Easy connection to any order picker.
Multiple deck units have swing-down shelves for more flexibility.
Available with one, two, or three shelves.
Backed by Pack Mule's industry-leading three-year warranty.
If you would like to make order picking more efficient and cost effective, give us a call at (803) 783-1171
Southland Equipment Service, Inc. has been serving customers with Safe, Cost Effective, Material Handling Solutions for over 45 years. Let us help you today!
Henry W. Richardson
V.P. Marketing
Southland Equipment Service, Inc.
Office: 803-783-1171
Cell: 803-309-5217
Fax: 803-783-2557
Sales@SouthlandSC.com
www.SouthlandSC.com